TOUZEAU'S SWAN LAKE, AN OVERWHELMING SWIRL OF MOVEMENT
"Schwanensee" – Ballett Mainz
Chor. Pascal Touzeau – Mus. P.I.Tchaikovsky
The Mainz Theatre, for ten years home to accomplished, successful and award winning international choreographer Martin Schläpfer,(Prix Benois de la Danse, three time winner of the Theaterpreis Faust and current director of the Deutsche Oper am Rhein) continues to offer new productions, ideas and fresh innovations thanks to Pascal Touzeau, the Company's director since 2009.
Many will probably ask why the climate of Mainz appears to be exceptionally inspiring. What is certain is that the artistic leadership seems to be very perceptive and clever, offering classical and traditional repertoire while at the same time being innovative and aiming to attract a younger audience. This is why, with titles such as Raymonda or Romeo and Juliet (already choreographed by Touzeau), and now Swan Lake, they always perform to a full house. This has been achieved by incorporating a younger audience in the midst of a traditionally older public, curious and eager to finally see, after thirty years of absence, the "classic" repertoire par excellence on a German stage. 
It is no mystery that the secret of this most recent success is Tchaikovsky's music, which has now been heard for well over a century in all the greatest theatres in the world. The theatre's public, packed with regulars and others hungry for new experiences seem to appreciate the emotion of every single note, skilfully delivered with intensity, colour and dynamics by the Mainz Philharmonic Orchestra.
It is Touzeau's new production that enables the Orchestra's conductor Florian Csizmadia to follow a pace that is always pleasing to the ear. With original choreography (as in the Petipa-Ivanov version), as a result of developments in classical dance technique, conductors are often compelled to modify, slow down or speed-up tempi dictated by Tchaikovsky's original score in order to assist the virtuosic requirements of dancers. Pascal Touzeau's style is well defined, and when compared with his previous classical revivals, Swan Lake proves to be by far his best.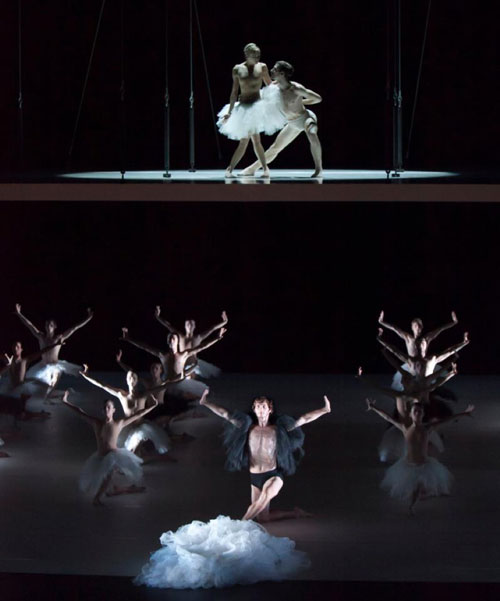 Technically demanding and characterized by a seemingly never-ending flow of movement, it enthrals the audience, especially the parts which are danced in socks rather than in more neoclassical attire – an unoriginal use of pointe shoes, bringing to mind a rather tarnished Forsythe. The most contemporary sections, however, reveal an original sinuosity and an energy that comes from the ground and spreads to the dancer, moving smoothly from one member of the corps de ballet to another, in a thrilling display of a seemingly infinite movement.
The French director, now German by adoption, manages to achieve, especially in corps de ballet sections, a purity and originality that at the same time both bring to mind and recreate formations and an atmosphere closer to a more traditional version of dance. By mixing male and female dancers, and by expanding his ensemble with many guest dancers, he creates a series of geometric and magical changes of formation that one would have thought belonged only to great companies like the Mariinsky or the Bolshoi.
The unexpected use of tulle and tutus created by the Italian Sofia Crociani (who has already collaborated with Christian Dior and Karl Lagerfeld) are never purely decorative or a nuisance, but through Touzeau's mastery become an integral part of the choreography. 
The highlights of the performance are the pas de deux and solos of the principal dancers: Christian Bauch and Ann Jung. Jung is the real queen of the evening, an Odette who is perfect in shape, movement and suppleness. Her extraordinary flexibility is breathtaking.
The choreographer twists the storyline, splitting the roles of Odette and Odile, and turns them into sisters.
The spectator, however, becomes so intensely spellbound by the poetic force of the music and organic nature of the choreography that any dramaturgical elements remain secondary.  This is certainly not to be considered a negative factor!
Who doesn't like to dream?
Touzeau finds the key to the spectators' souls, drawing them into an emotional swirl of infinite movement.
 Martina Angioloni
Article published by Teatrionline